4
min read
Paypal is one of the world's leader in online payment system. If you work online you probably may have used it most of the times to accept payments. But in Nepal, Paypal only supports sending money i.e, you cannot receive payments from Nepal.  So in this post we are going to discuss step by step on how to verify your Paypal account and receive money through any ATM of Nepal right to you.
1. Creating a Paypal Account: 
Sign up at Paypal using US or Canada as your home country. Please note that selecting Nepal as your home country will restrict you from receiving money in your account as Paypal does not support Nepal. You will only be able to send payments if you select Nepal as your home country. So sign up using US or Canada and please use your real name to sign up.
2. Sign up for a free Mastercard
Now we will apply for a Mastercard for free. Sign up here to get a free Mastercard issued by Payoneer. Payoneer is an online business company which provides Pre-paid Mastercard to the users worldwide at no cost. You can use this card at any ATM worldwide to withdraw money. While registering you will be asked for your citizenship certificate or your passport. Payoneer will verify your document and it will ship your card for free to your home so please try to provide the correct details. Provide P.O Box if you have because it is more reliable than shipping at your home address.
So when you receive your card, we will verify the Paypal account you created earlier using this Card. First of all activate your card by visting the Payoneer website and click on "Activate your card" and enter the 4 digit PIN number and click submit.
3. Applying for US Payment Service
US Payment service is a very useful service provided by Payoneer. With this service you will be able to receive payments from US companies directly to your account which will automatically be loaded to your Mastercard. So we will apply for this US payment service to receive payment from Paypal.
Follow these steps to apply for a US Payment Service.
Login to your payoneer account and go to Receive payments > US Payment System
Click on Activate my US Payment service.
Now you will be presented with your own Bank Account details like in the image below so save the Bank Routing Number and Account Number. This information are needed to verify your paypal.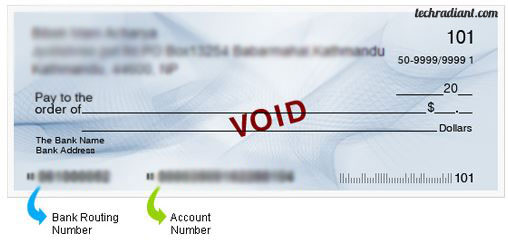 4. Verify Your Paypal Account
Now that you have your own Mastercard and a US Bank Account, we will verify our Paypal Account. Follow these steps to verify your Paypal with the US Bank Account.
Log in to your paypal account.
Go to Profile > Update Bank Account and select Add Bank Account
Select Checking radio button and enter the Routing Number and Account Number you got from the US Payment System.
Click Continue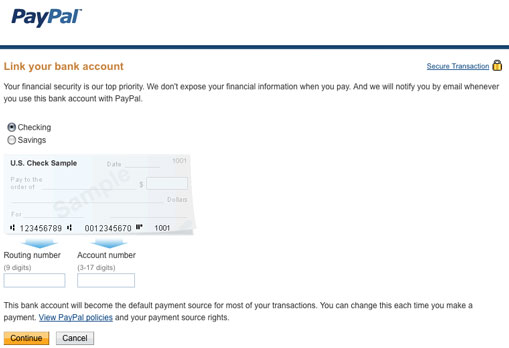 In New Paypal Interface
Log in to your Paypal account.
Click on Wallet from the top menu.
Click Link a Bank.
Select Checking and enter the Routing Number and Account Number you got from the US Payment system and click Agree and Link
So Now you have added your Bank account, Paypal will make two small deposits in your Payoneer account to verify that the Bank account is yours. The small deposits are like $0.xx and when you get that amount, log in to your Paypal account and click on Profile > Update Bank Account and click on Confirm Bank Account. Now enter the two small amounts and your Paypal account is now verified.
5. Withdraw Money from Payal to your Payoneer Account
Now that your Paypal is verified, only step left is to transfer your amount to your Payoneer card and withdraw from any ATM.
Log in to your Paypal account.
Go to Withdraw > Transfer to Bank Account.
Enter the amount.
Click Continue
The amount will be now transferred to your US Bank Account and will automatically loaded to your Payoneer Mastercard. Now you can withdraw your money from any ATM around the world. It may take up to 3-4 days for your amount to be transferred to your Bank Account.
How much is the transaction fees and how to minimize it?
Well, you will not be able to get every penny you have in your Paypal account. There are certain fees involved in the transactions, so we are going to discuss on what is the fees involved and how to minimize it. Thank you LacunaBlog and this blog for this information.
US Payment Service charge: 1% Service charge is deducted while transferring from Paypal to your Bank Account.
ATM withdrawal fees: You will be charged $3.15+up to 3% currency conversion fee.
Annual Card Maintenance fee:  When you reach $29.95 on your Payoneer account for the first time, that amount will be automatically deducted as an annual card maintenance fee. And it will be deducted yearly at the same date.
How to minimize fees?
Only Nepal SBI bank and Standard Chartered Bank charge you the actual ATM withdrawal fees i.e, $3.15+up to 3% so always use ATM's from this Bank. Other Bank charge more than the actual ATM withdrawal fees.
Do not make a Balance inquiry from ATM, every declined ATM withdrawal and Balance inquiry will cost you $1.
Always try to withdraw bulk amount as you will be paying less withdrawal fees. Nabil bank ATM allows maximum of NRS.35,000/- per transaction but involves a NRS. 400 fees.
Payoneer charges annual card maintenance fee of $29.95 when you reach that amount for the first time and it will be deducted yearly at the same time, so always try to clear up your account around that time so now amount will be deducted from your account.
Well, hope you are now clear about the steps involved in verifying and withdrawing money from your Paypal account in Nepal. If you have any queries then feel free to ask in the comment section below.